[note align="right"]
Lunch Menu
Elementary Lunch Menu
Middle School Lunch Menu
High School Lunch Menu
Lunch consists of:
Entrée
Vegetable
Fruit
Milk
Lunches Prices are as follows:
K-5 Full Pay $2.30
Reduced $.40, Milk $.40
**Extra slice of Dominos Pizza $2.00
6-12 Full Pay $2.60
Reduced $.40, Milk $.40
**Extra slice of Dominos Pizza $2.25
Breakfast Menu
K-12 Full Pay is $.25, Reduced is $.25, Milk $.40, Juice $.50
Choice of assorted cereal, pancake on a stick or breakfast pizza
Graham crackers
100% apple juice
Milk
*Breakfast is not served on a 2 or 3 hour delay.
*All menus are subject to change.
[/note]
Operations of the Cafeteria
The Kenton City School's cafeteria operates one main kitchen with 6 satellite cafeterias. The cafeterias serve over 1800 meals daily consisting of breakfast and lunch.
All costs, including salaries associated with the cafeterias are paid for by money collected from students, staff, and federal reimbursement for the National School Lunch and Breakfast Program.
All schools operate on the POS (point of sale) system. This is a computerized debiting system that allows parents to pay for students lunches in advance. The student punches in their Student ID# on a key pad and a breakfast or lunch is debited from their personal account. If parents have questions concerning their child's account, a complete history can be obtained. At the end of the school year, funds left in your child's account will be rolled over to the next year except in grades advancing to another school. In this case the funds will be transferred to the new school.
Account Balances
Parents can check account balances on their student's MyCatPage. All students have a user name and password to access MyCatPage. If a student does not know their access information, parents should contact their student's school to request access information.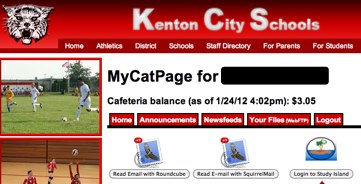 Online Payments
Parents can opt to pay online for their student's cafeteria balance.
Free or Reduced Lunch Applications
Free or Reduced Lunch Applications are available at any of the schools and the Administration Office and one can apply anytime of the year. The application and more information is available for download.
To find out more about this program call Regina Comstock at 419-675-7216.